Recover lost photos from corrupted memory cards
November 5, 2012
2 min
A few weeks ago, a camera of our relatives indicated that the CF card was corrupted and it seemed to lost the images on it. Even though we had other cards to use, and we made daily backups, such event definitely ruins the mood, as something was lost. Unfortunately for our photographer, his camera was started to show errors and the corruption happened to the second card too, within just days.
Eventually, after we have returned from our trip, we were able to recover most of the lost photos from the cards. A free and open source program called PhotoRec did the job.
PhotoRec is file data recovery software designed to recover lost files including video, documents and archives from hard disks, CD-ROMs, and lost pictures (thus the Photo Recovery name) from digital camera memory. PhotoRec ignores the file system and goes after the underlying data, so it will still work even if your media's file system has been severely damaged or reformatted.
It has only a command-line interface, but it is easy to use and navigate. Two 2GB cards were scanned, and it returned not only most of the missing pictures, but some of our trip from one and a half years ago. A nice reminder that one should be careful to lend its CF card to anyone.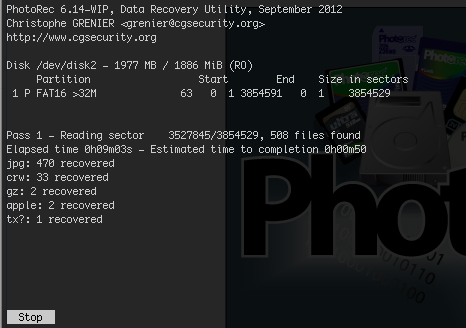 PhotoRec working
PhotoRec is a great tool, does its job, and most importantly: it is free. If you have a problem, you don't have any upfront cost, just try it and see what happens. But don't forget to decide early: if it would help you, you would donate X amount of money to the authors. After all, they help to restore your lost memories.
Last updated: August 29, 2014